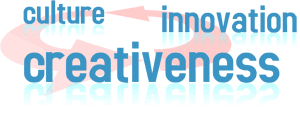 Creating a virtuous synergy between culture and creativeness, constructing innovation, cultivating excellences

We have seized the importance of gathering creative minds in one group in which cultural, scientific and technical synergies are the basic fuel for a new breeding ground of innovation.
We have felt the need to create a working and studying environment into which we would like to bring different experiences and expertises, aiming at a personal and social growth.
Hence, the Italian Club of Creatives is born.
Surfing our web site, you will find information about the Club's statute, its members, details to apply for membership and our projects of public interest.
"If you have an apple and I have an apple and we swap them, both of us own an apple. But if you have an idea and I have an idea and we swap them, then each of us has two ideas".
G.B. Shaw
"The future belongs to those who believe in the beauty of their dreams".
E. Roosevelt